Greetings from all of us at Champion Community Investments and Welcome Aboard!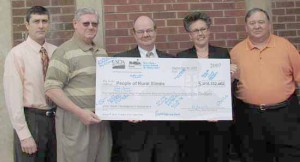 Thanks for your interest in our service and Welcome Aboard CCI!
Our goal with our enhanced website, e-newsletter, and intensified social media presence is to be sure that we are fully communicating CCI's role in the business community and using the various platforms to educate current and potential clients about accessing our services through loan applications, technical assistance, and more.  We hope to be an effective financial partner for area businesses, entrepreneurs, and mainstream financial institutions.
You also might be interested to know that CCI is recognized as a Community Development Financial Institution by the United States Department of the Treasury.  What does the CDFI designation mean?  Being a CDFI requires us to be a lending organization with a mission of community development.  As a CDFI, CCI must have local, representative leadership that does not bind the organization to any governmental entity, we must serve businesses primarily within a target market that is based on businesses located in distressed census tracts in the region.
CCI is a 501c3, Illinois-based non-profit corporation.  We don't have stockholders or profitability requirements that mainstream banks have.  Our primary footprint spans the five Southern Illinois counties of Jackson, Williamson, Franklin, Jefferson, and Perry and also offer microenterprise lending in Randolph, Hamilton, White, Gallatin, Saline, Pope, and Hardin Counties.
Again, thanks so much for your interest and Welcome Aboard CCI!
---
Ten Essential Welcome Aboard CCI Facts
Certified Community Development Financial Institution.
Offers loans through the USDA's Intermediary Re-lending Program (IRP) and the Rural Micro-entrepreneur Assistance Program (RMAP).
Secured nearly $5.1 million in grants and loans to use as principal.
Closed more than 100 low-interest loans to start-up and existing small businesses.
Works with revolving loan funds.
CCI has lent more than $4.9 million to businesses in eight southern Illinois counties. Those loans generated an additional $8.2 million in other leverage, including commercial banks and owner cash injections.
The total value of the projects in which CCI has participated exceeds $13 million.
IRP loans are available only in five CCI counties. The loan maximum is $150,000.
RMAP loans are available only in 12 CCI counties. The loan maximum is $50,000.
CCI is the only Illinois Non-Profit Community Development Financial Institution (CDFI) south of Springfield.
---
Don't forget to register for our Welcome Aboard CCI email program!
Don't want to wait for the next newsletter to learn more?  Feel free to cruise around our Website for more information. For a more personal outreach, give us a call or email us.
General Information: Lending Information
Mr. Rex Duncan, Executive Director Mr. Jeff Ashauer, Loan Manager
(618) 713-6320 (618) 318-3983
rduncan@ccinvestments.org jashauer@msn.com